Together, customers and rapid digital disruption have transformed the business landscape, uprooting a historic structure that centered power with institutions and allowed change to percolate gradually. Now, the landscape is volatile, fraught with fast and furious shots of change; organizations must either embrace constant change or lose share to competitors. Forrester calls it the Age of the Customer. And, according to the firm, it's here to stay, mandating companies continuously transform – or fail.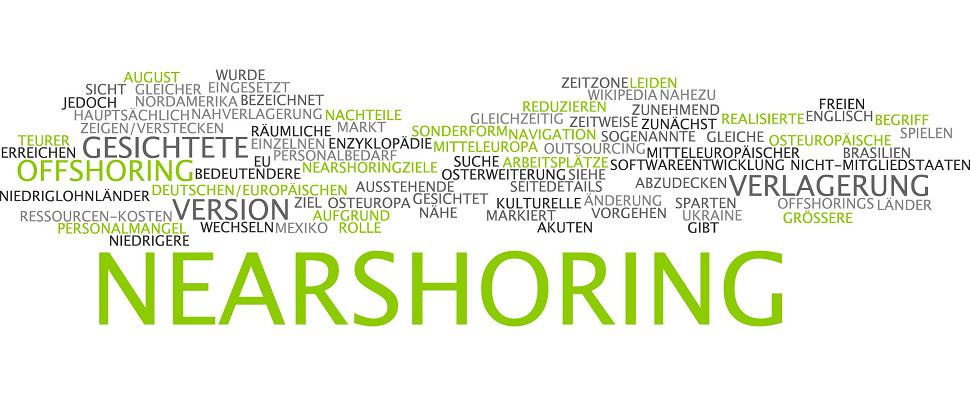 For organizations without the massive cash flow to support the average cost of software development or in house software development options, ongoing digital transformation and software development seem insurmountable. But for organizations of any size, building costly and large in-house teams isn't the only way; instead, organizations can leverage nearshoring as a strategy to stay on the edge of development.
What is Nearshoring?
A strategic option in an organization's sourcing strategy, nearshoring is the practice of outsourcing work to a nearby or adjacent location. This practice enables businesses to reap the cost benefits of an offshore location without having to overcome some of the language, culture and time zone challenges that can be presented by more remote offshoring. The idea is similar to borrowing a cup of sugar from a neighbor to supplement a batch of cookies you're mixing up. It's more efficient than driving to the store to buy your own, and more convenient than trying to sync up with a friend who lives across town to supplement your supply.
Nearshore Software Development: Advantages
Innovation takes talent. And not just one moderately talented individual, but a team of greatly skilled experts. Nearshoring as a strategy can enable organizations to access highly-skilled technical professionals to augment existing IT staff and provide innovative, skilled software development, QA their web development, develop social media integration APIs, and even develop more cutting-edge technologies like natural language processing (NLP) or bots for business use.
Advantages of Nearshoring Include:
• Lower-cost software development. For example, a US-based firm may nearshore software development to Mexico, enabling the organization to develop on-demand software at a lower average cost than retaining a full IT staff in the United States.
• Ability to work closely. An adjacent location means a similar time zone, which is valuable for agile software development sprints that may require closer collaboration during development and build transfer phases. This also makes it easier to brainstorm or volley testing and feedback rounds between software developers and business stakeholders.
• Strategic flexibility. In a recent McKinsey report, the consulting firm highlighted the freedom global insurance firm American International Group (AIG) has unlocked with nearshoring, as the firm now has the ability to relocate activities that are higher in the value chain, enabling strategic placement of role where necessary language skills and technical skills are placed in the optimal position.
• Introduce new skillsets. When nearshoring is a piece of the business strategy, partners can introduce new knowledge and expertise to the business that may not be held in the house.
• Cultivate stronger relationships. An outsourced provider a short plane ride or quick phone call away can quickly become human capital that pushes your business forward. Human relationships are pivotal in life and in business, and nearshoring can enable strong connections.
• Reduce the travel burden. Traveling across multiple time zones to meet with partners means grappling with jet leg, foodborne illness, and culture shock, and can quickly burn out stakeholders who meet and manage partners. In a nearshoring relationship, this burden is greatly reduced, potentially even enabling same-day travel.
Nearshoring Best Practices
We wouldn't be telling the whole story if we didn't highlight the risks that can come with nearshoring: trusting a key portion of your business to another firm, onboarding a new provider, and sacrificing quality to save on costs. But remember, nearshoring is supposed to be an integrated strategy, which means you'll be layering this in with best practices included. Here are a few things to keep in mind:
• Ensure the nearshoring provider has the technological equipment necessary to fuel real interactions, which may include microphones, cameras, and internal messaging systems.
• Plan for a learning curve. Nearshoring a team means introducing professionals who are adept with development, project management, or QA, but not necessarily well versed in our industry. A good nearshoring partner will share, or own, the burden of the HR aspect of the nearshored team, but they may require some training on company standards and processes.
• Set expectations before you begin working with a provider. Nothing makes measuring quality more difficult than having no measure in place. Businesses must determine what metrics to measure, and what makes for success.
• Seek a partner – not just a provider. Nearshoring can present a structural risk, if the provider doesn't uphold their end of the deal, the Harvard Business Review cautions. But providers that encourage ongoing monitoring and partner in the hiring, training, and retention process can actually save money in the long run.
• Keep the full strategy in mind. Nearshoring isn't just about cutting costs – it's also about establishing more efficiency in processes, expediting development cycles, or customizing a service with specialized expertise. When organizations embrace nearshoring as a piece of strategy, they are much more willing to adapt existing structures to maximize this model, as opposed to trying to wedge it in as only a cost-saver.
Did you know TechGenies has offices in seven locations? Find out how we can help you incorporate nearshoring into your business strategy, wherever your software development needs may be. Contact us today to start a conversation.
Fill out the form and our team will be in touch with you promptly. Thank you for your interest!
info@techgenies.com
www.techgenies.com