Imagine Jane has a critical meeting Monday morning, and armed with a piping hot cup of coffee, she is preparing to plug in some final numbers to her presentation Sunday night – when suddenly her Enterprise application freezes.
At this critical juncture, her company's decisions around application development team roles and responsibilities could be the difference between smooth sailing for her meeting and a very panicked morning.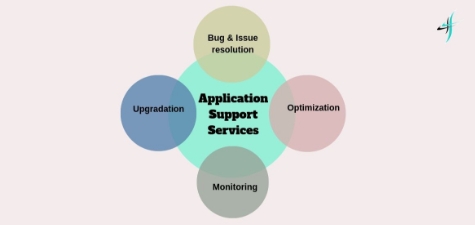 One critical component for a business firing on all cylinders is ensuring robust application support services, whether an organization is employing custom php application development or java-based mobile applications.

Here, we break down the three levels of application support and describe what areas are included in each, as well as offer some best practices for an efficient application support services team.
Today's users have very high expectations. For example, most mobile app users (61%) expect an app to load in 4 seconds or less, according to a TechBeacon survey. Most users (80%) said they would only try to use an app with glitches 3 times – or less. And users are unforgiving of major issues like errors,
freezing or crashing, as a majority (53%) said they uninstalled apps that had those issues.
For customer-facing applications, these high expectations can influence brand images; for internal applications, these same expectations can influence employee morale and satisfaction. In the face of these sky-high user expectations, application support services need to be well-equipped to keep the app running smoothly.
What is application support?
This service is the daily process of running an application, including ensuring the app achieves service-level objectives and supporting users when issues arise. Within this group, there are several different levels of application support that should be provided.
First Level Application Support
First Level Support includes basic troubleshooting to establish the cause of a problem. For example, if the network is down, the app cannot run. L1 support is often known as the first-line support, because these individuals are on the front lines gathering customer data and understanding the issue based on the problems reported to identify the root cause. This can also include general application monitoring.
Generally, these issues are resolved on the front end.
At larger organizations this may be separated as a Help Desk; however, smaller companies may have a more fluid model.
Second Level Application Support
Second Level Support includes the actual resolution of incidents, generally by a professional who is either an expert in the application or the infrastructure supporting it. L2 support is often more expensive because of the technical expertise required to support L1 team members, raise issues, and identify potential solutions.
Third Level Application Development Support
Finally, at the third level, incidents are resolved by those who have a deep knowledge of the application, typically the developers of the application. For organizations outsourcing their application development, this layer of support may not be possible, and it's important for business leaders to take that into consideration when selecting a partner.
This may be known in some models as high-end or back-end support, and require highly skilled specialists who can address escalates from L1 and L2 employees and study and develop unknown issues to create methods to resolve them. Sometimes, this may mean a code or database change to resolve the issue.
Running Lean: Best practices for application support services
Many organizations are launching thoughtful custom app development aimed at making themselves more competitive in the industry. But even with thoughtful development, teams supporting applications often encounter some degree of chaos: demand is varied, and often doesn't coincide with scheduled support. Unless employees are complaining of poor support, strategic attention is typical sparse. In addition, documentation is incomplete both because many requests aren't logged according to company standards and because knowledge isn't recorded by developers in detail.
To avoid these pitfalls, business leaders should establish five practices to minimize issues and improve the value support services add to the organization:
Establish a criteria to prioritize requests, and ensure all requests are logged and prioritized according to that system.
Develop rules and SLAs that equip support services teams to balance scheduled and unscheduled requests based on priority, impact to eh business and value to the business.
Measure the time spent on each request to help refine staffing planning.
Provide clear support documentation for the application.
Create performance management metrics for support services staff to increase management visibility into performance and equipment the department with clear data that outlines value and performance.
The outcome of Jane's story will be very different depending on the partner her company selected for its application development, and the support model they have established. Thanks to an experienced team of application developers, Jane's company required clear documentation for app support and set standards for the application development team. In addition, the organization established a 24/7 L1 support model, enabling Jane to quickly get in contact with support, and soon return to polishing her presentation.
Would Jane's story end the same way at your organization?
Contact info@techgenies.com to tell us more about your application support needs. Our experienced Genies can help ensure application issues are swiftly addressed so employees can remain as productive as possible.
Fill out the form and our team will be in touch with you promptly. Thank you for your interest!
610 Elm St. Ste 700
McKinney, TX 75069
855-643-6437
info@techgenies.com
www.techgenies.com