By next year, your company's mobile app development could have the most impact on your business' success, according to a recent Gartner survey. And while the research and advisory firm is already looking ahead to multi-experience apps that blend chat, voice, augmented reality (AR) and other emerging technologies, it's clear that mobile apps form the foundation to expand into newer frontiers, according to Gartner research vice president Jason Wong.
But for most organizations, pulling an app off the shelf doesn't meet its unique user needs and functionality, and a desire to maximize the benefits of a tailor-made app is increasingly driving businesses of all sizes to embrace custom app development.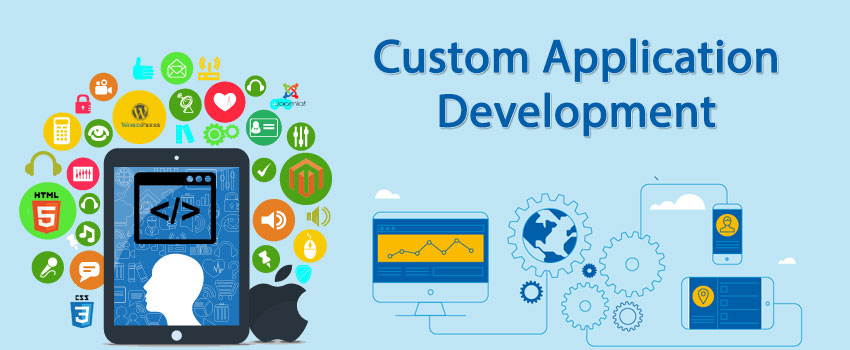 Mobile App Development
Mobile phone use is prolific – frenzied, even – and organizations need to thoughtfully approach mobile design. Of the mobile sales generated by the leading 500 merchants, 42% of sales came from mobile apps, according to a recent study from Go-Globe, and 85% of people said they preferred native mobile apps to mobile websites.
Mobile app development requires a distinct type of development as mobile user interfaces require specific considerations. Some key considerations include:
• Context – Remember, users are often on the go or distracted
• Small Screen Size – Computer and tablet screens are multiple times larger than smartphones, and developers must ensure the app content can render correctly on such limited screen real estate.
• Input limitations – Typing on a smartphone is entirely different form typing on a laptop – even for the most adept Gen Z users. Apps need to avoid typing blunders ("fat finger") and exhausting scrolling requirements.
Benefits of Custom App Development
The business landscape is fiercely competitive these days, and organizations are looking to custom app development as another means to gain competitive advance. Some key benefits of custom app development include:
1. Built to grow. An off-the-shelf app may limit resources and processes, but a custom app can consider the future. Serving customers in the thousands today, but expecting explosive growth in the next five years? A custom app allows you to shore up for future scalability.
2. Increased efficiency. When an app is tailored to your company working style and needs, it can boost employee efficiency.
3. Secure app data. Securing your data is paramount, and a custom app can reinforce your security appropriate for your business.
4. Planned integration. When standard apps certainly can integrate with other business tools, a customized app is designed with your full suite of business tools in mind, likely reducing clunky, frustrating integration periods.
5. Get personal. Since the app is custom, it's custom for your customers, too. This means custom messages, company branding, and the specific user experience your business wants to offer your customers.
6. Offer real-time access. Strong security and smooth integrations also enable users to access projects while they're on the road, another element that reduces downtime and increases employee productivity.
7. Communicate as needed. Every business has different expectations for communication, and a custom app enables you to determine when automated updates should release in a project, and how much or how little to communicate when maintenance occurs.
Front End App Development: Offering a Seamless User Experience
Of course, to reap any of the benefits of custom app development, your business' app actually has to be usable. A savvy app development team must be well-versed in several areas in order to create a flawless front end (user interface). Critical expertise includes:
• Ability to code in HTML, CSS, or JavaScript
• Ability to communicate with a web service. Setting aside a bevy of technical terms, this is essentially the ability to streamline network communication on the website, allowing the app to retrieve data (such as LinkedIn mentions) and provide to the application.
• Responsive and mobile design. Yes, we're talking about mobile app development again, because it's such a critical skill. Few users want to drag out a laptop or haul themselves to a desktop to finish something they started – but now can't finish – on a mobile device.
• Cross-browser development. Every browser is just a little different, but it's likely your business doesn't want its content to render differently on each of them.
And whether your mobile app developers are in Texas, Lebanon, or dispersed across multiple locations, they'll need to be adept at testing, debugging, and communicating with user testers and organizational stakeholders to ensure the user experience is optimal – otherwise, it's likely your app will see poor adoption rates.
App Development: The Company Business Plan You Should Have
Most new apps – 78% percent, to be exact – are abandoned after the first use, according to app security organization Arxan. That's a substantial drop rate, especially when you consider the costs organizations invest developing their apps. To harness your app launch, your product owner should plan to take several critical steps.
1. Embrace analytics. Don't let poor performance – or skyrocketing demand – catch you off guard. Instead, monitor the hard numbers for performance and usage right from launch.
2. Seek user feedback. Ask for user feedback – in person, in surveys, in feedback forms.
3. Identify problems. Armed with the hard facts from the quantitative data in your analytics and the added color from the qualitative user feedback, isolate issues and address them. Remember, launching the app is just the first step.
Whether you're looking to refine an existing custom app or launch a new custom app development project, we're here to support you every step of the way. Contact us at info@techgenies.com to learn more about how our seasoned app developers can help your business develop custom apps that are user-friendly, and ultimately can offer your business a leg up in the marketplace.
Fill out the form and our team will be in touch with you promptly. Thank you for your interest!
610 Elm St. Ste 700
McKinney, TX 75069
855-643-6437
info@techgenies.com
www.techgenies.com